There is practically none who has not received any benefit from the policies of the Modi government: Vibodh Gupta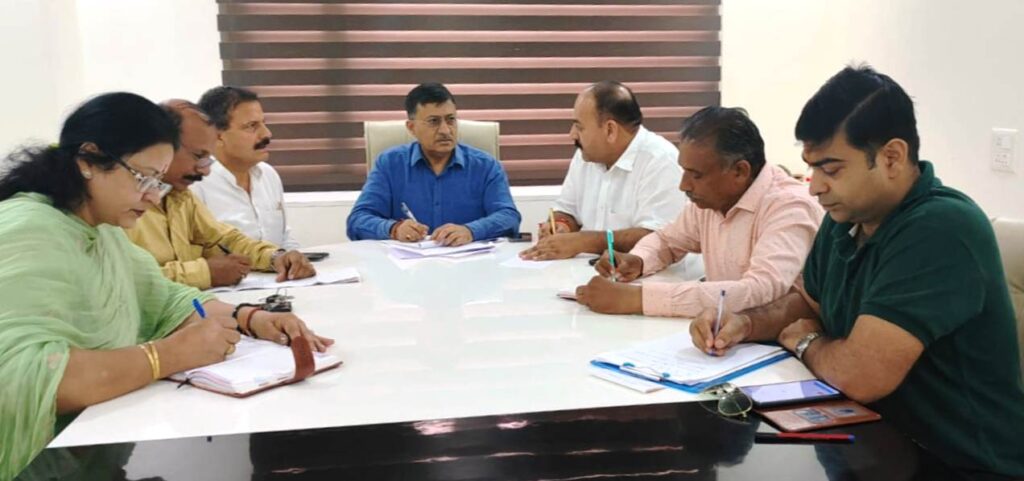 JAMMU May, 24: Bharatiya Janata Party (BJP) Jammu & Kashmir will hold beneficiary Sammelans across Jammu & Kashmir at the Assembly constituency level, said Adv. Vibodh Gupta, former MLC & General Secretary, J&K BJP at BJP headquarter, Trikuta Nagar, Jammu.
Vibodh Gupta was addressing a meeting of a team of senior party leaders constituted at Jammu & Kashmir UT level, in which it was decided that the party will make its reach to the beneficiaries of various public welfare schemes initiated by Prime Minister Narendra Modi led Union government.
Members of UT level committee comprising of former MLA Balwant Singh Mankotia, BJYM Prabhari Munish Sharma, Secretary Ayodhya Gupta, Mahila Morcha President Sanjita Dogra, Media Incharge Dr. Pardeep Mahotra, Election Management Incharge Parduman Singh, and others participated in the meeting.
Vibodh Gupta, while addressing the meeting stressed that the Modi government is a first pro-people government in the Nation that has worked on ground level to address the needs and the issues of the common masses. He said that every scheme and policy of the Modi government is framed with a clear objective to provide benefit to the last person living in the most deprived section of the society.
"BJP activists would present the people with the facts and figures that show how the Modi government influenced their lives in these Nine years while comparing the period with the apathetic performances of the previous governments since 1947", said Vibodh Gupta.
Vibodh Gupta said that the purpose of these Sammelans is to spread awareness about the work done by Narendra Modi government for the needy persons in society. The participants of the Sammelans will be informed about the work done by the government to benefit their respective communities.
Vibodh Gupta added that the senior party leaders would be addressing the beneficiaries on the work done by the government and create an awareness that the further benefits could be taken by the needy persons.
"Probably  there is practically none left who has not received any of the benefits from the policies of the Narendra Modi government in these years", said Gupta, while particularly mentioning about the Covid Vaccination, golden Health Card etc.