Mumbai (Maharashtra) [India], May 25 (ANI): Actor Ayushmann Khurrana and his Tahir Kashyap on Thursday, penned down heartfelt notes as they mourned the demise of 'An Action Hero' actor's father P Khurrana.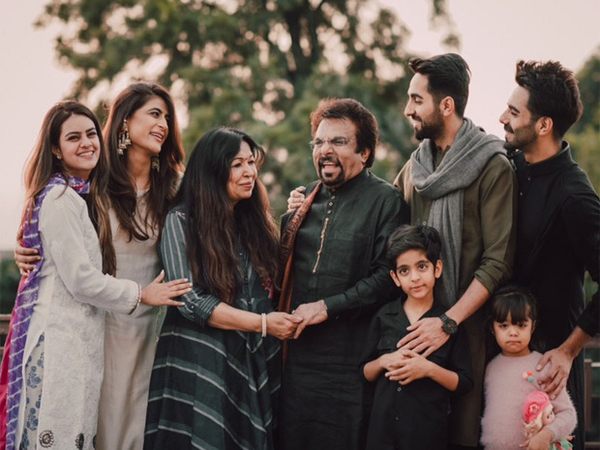 Taking to Instagram, actor Ayushmann Khurrana shared a string of pictures in which his family members can be seen standing in front of P Khurrana's photo frame with folded hands.
He captioned the post, "Maa ka khayal rakhna hai aur humesha saath rehna hai. Pita jaisa banne ke liye bahut duur jaana padta hai apne pita se. Pehli baar aisa mehsoos ho raha hai ki papa bahut duur aur bahut qareeb hain humare. Thank you for your upbringing, love, sense of humour and the most beautiful memories. Jai jai."
Ayushmann Khurrana and Aparshakti Khurana's father P Khurrana passed away last week. He was popularly known in North India for his contribution to the field of astrology. Hailing from Chandigarh, he had written books based on his knowledge of the subject.
On the other hand, Tahira remembered her father-in-law and shared an edited video which had some unseen family pictures and clips.
She captioned the post, "Papa. A relationship since I was in high school. I remember all my firsts. The first time I came to your home which had a full filmi family picture. To the first time I used my salary in college to gift you and mama a portrait that I got made from an artist to impress you. The time I struggled to call you papa and then it just didn't leave. The first time I had heard that you were absolutely cool with me not shifting my base after marriage. You respected my family, broke all traditions and let me stay happy. How often do you see that? There have been many firsts. But this first I am about to mention perhaps was the last. Just 2 days back I was going through your things and saw you kept the magazine which had my cover," the caption further reads."
Soon after she dropped the video, her fans and friends swamped the comment section and dropped red heart emoticons.
"This was clicked many years back but you treasured it and I never knew. Breaks my heart to not have the hero around to the boy I love the most. I haven't met perhaps never will meet someone like you. I will never forgot your laughter, we'll miss you papa," the caption concluded.
Aparshakti shared the unfortunate news via a statement.
"It's with our deep sadness to inform that Ayushmann and Aparshakti Khurana's father, Astrologer P Khurana passed away this morning at 10:30 am in Mohali, owing to a prolonged incurable ailment. We are indebted for all your prayers and support during this time of personal loss," the statement read.